The North Carolina Drug Education School is a state-approved program under North Carolina General Statute 90-96 that allows for the conditional discharge of criminal convictions for first time offenders accused of drug violations.
As an alternative to conviction, NC General Statute 90-96 gives courts the option to place individuals accused of a drug offense on probation, without finding them guilty.  Under the terms of this probation, the individual is given 150 days from the date of referral to complete North Carolina's Drug Education School program.  Upon successful completion of the 15 hour program, the Court may dismiss the charge without conviction.  Defendants who were under the age of 22 at the time of the offense may apply to have all records of the charge expunged.
The ​North Carolina Department of Health and Human Services oversees the development and programming of NC Drug Education Schools as authorized by NC General Statute 90-96.01.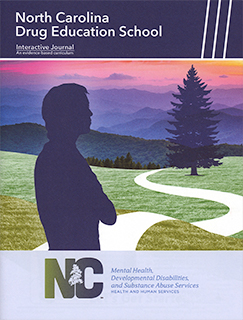 An Evidence-Based Interactive Journaling Program​
The NC Drug Education School's curriculum was created to provide ​the participant​ with information and skills to help identify patterns of behavior that have the potential to become problematic. ​​ Drug Education School students ​ will have an opportunity to evaluate the role that drugs have played in their​​ l​i​ves​ in the past and explore changes​ ​ they​ may wish to make for the future.
The program is based on the beliefs that people have the power to make positive choices and can change their behavior when given the motivation and tools to do so. By providing ​​students​ with skills for personal change, the program strives to help ​them​ avoid problems and negative consequences, including drug ​related behavior.
The North Carolina Drug Education School encourages positive change in its students by allowing them to:
Learn about the range of physical and mental health effects of drug use.
Examine signs and symptoms of harmful and high-risk substance use.
Self-evaluate their pattern of substance use and examine the effects of drugs on their lives and future.
Explore the connection between their thoughts, feelings and behaviors.
Develop a plan to avoid future high-risk, drug-related behavior.
Contact the NC Drug Education School
Dale Willetts - DES Coordinator
TASC Training Institute of Coastal Horizons Center, Inc.
2425 South 17th Street
Wilmington, NC 28401
Phone: 910-202-5500
Fax: 910-541-9674